MSU takes a large group to the AICHE Southern Regional Conference at LSU
June 6, 2018
From April 5 to April 7, LSU hosted the AIChE Southern Regional Conference in Baton Rouge, Louisiana. Mississippi State's AIChE chapter sent 28 students to the conference to represent chemical engineering at MSU, compete in various competitions, and engage and network with fellow chemical engineering students from across the region.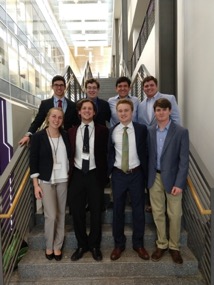 MSU AIChE 2018 Jeopardy team
(Top Left) Denton Reissig, Andrew Weaver, John Suedel, Drew Dickerson
(Bottom Left) Erica Charlton, David Blake, Nathan Mitchell, Austin Breland
On Thursday, students made the four-and-a-half-hour drive from Starkville to Baton Rouge and were greeted by LSU with a crawfish boil at Tin Roof Brewing Co. Those that went enjoyed fresh boiled seafood, ping pong and board games, and, for those over 21, some of Tin Roof's many different flavors of beers.
LSU offered several tours of various chemical companies, breweries, and distilleries on Friday. BASF, Dow Chemical, and Syngenta let students come and tour their plants, giving students a unique look at chemical engineering at the industrial scale. Caneland Distillery and Tin Roof Brewery gave an alternative option for chemical engineers, showing the possibilities of careers in the alcohol industry. After the tours, some of these companies and many others took resumes and talked with students about their company and careers at a small career fair at LSU.
Friday evening, two teams from MSU, the Swalm Squad and the Bulldog Brigade, competed in the conference's ChemE Jeopardy tournament. These students practiced for months memorizing various chemical engineering facts to show off their knowledge in a format like the tv show Jeopardy. the Bulldog Brigade ended up qualifying for the semifinal match, where they played a close game against LSU and North Carolina State University, but they ultimately did not qualify for the final match. LSU ended up winning the competition and will be one of the schools representing the southern region in the AIChE national conference this fall. Afterwards, the teams met up with the rest of the MSU students to enjoy a social mixer at club XO, where everyone enjoyed dancing and meeting chemical engineering students from many different universities.
The busiest day of the conference was Saturday, with a full day of activities, competitions and social events. In the morning, Jamarii Robinson and Mayukh Datta participated in the poster competition, where they presented their research in an open house to faculty and other interested students. Jamarii's poster was entitled United Atom Force Field Development for Phosphonium Based Ionic Liquids, and Mayukh's poster was entitled Synthesis, Alkylation, and Metalation of CCC-NHC Pincer Complexes.
At the same time, the ChemE Car team presented their car and a poster displaying its functions at a separate poster competition. After lunch, the ChemE Car team competed with the Bully Buggy to get the closest to a predefined distance target. Although the car did not start, the team enjoyed the experience of competing and used it as a learning opportunity for future competitions. The day ended with Auburn winning the bid for the 2020 Southern Regional Conference and a banquet at the Capitol Park Museum with a keynote address from an area manager at Eastman Chemical.
Overall, students enjoyed exploring Baton Rouge and participating in the many events LSU hosted at AIChE Southern Regional Conference. The conference also served as a great learning experience for our chapter as we will be hosting the AICH Southern Regional Conference in the 2019 spring semester!