Chemical Engineering Students Represent Mississippi State at National Archery Competition
May 15, 2018
By: Andrew Weaver
In February, chemical engineering students Johnny and Allen Lin were invited to compete in the Intercollegiate Indoor Championship and Vegas Shoot as part of the Mississippi State University Archery Dawgs. Both Johnny and Allen competed alongside skilled archers from around the country including former Olympic athletes.
The Vegas Shoot, one of the most prestigious indoor archery tournaments in the world, is composed of over 3500 individual archers from across the globe competing for the gold. The shoot consists of three full days of no-error competition where athletes shoot a 40-cm target from a distance of 20 yards. The tournament comes with a prize pool of over $430,000 for division winners and perfect scorers. Mississippi State has been invited to send members from its archery club multiple timessince its inception. This year, Johnny Lin placed 8thnationally in bow hunter and Allen Lin won the national silver medal in recurve.
The Archery Dawgsclub wasfounded in Fall 2015 by Stephanie Schisler and is open to anyone interested in archery from all skill levels. The club meets twice a week and provides beginner equipment for those who have not shot a bow and would like to try out the sport without spending too much money. The club is for both for those looking for recreational shooting and those looking to compete regionally and/or nationally. Even though Archery Dawgs is only a club, members compete against schools with NCAA archery teams and have bested them on occasion.
Johnny Lin, a junior in chemical engineering, spoke about his experience with the Archery Dawgs and the Vegas Shoot. He said that competing in archery "does not require a team, but being able to participate with other people who also enjoy archery has made the experience here at State more fun." When asked about the Vegas Shoot, Johnny commented that his experience was "incredible". He went on to say, "The tournament invites individuals from around the world from amateurs to Olympic athletes. I know this year Allen shot next to a former Olympian."
When asked about his plans for continuing archery past graduation, Johnny replied, "I think I will [continue]archery as a hobby after I graduate. It is a fun and entertaining sport, and there's always the chance of making it to the Olympics."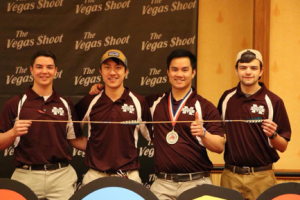 Mississippi State Students Honored at the Vegas Shoot. From left to right: Justin Rakestraw, Johnny Lin, Allen Lin, Austin Billingsley