CHE Undergraduate Student wins 3rd Place in Undergraduate Research Symposium
August 10, 2016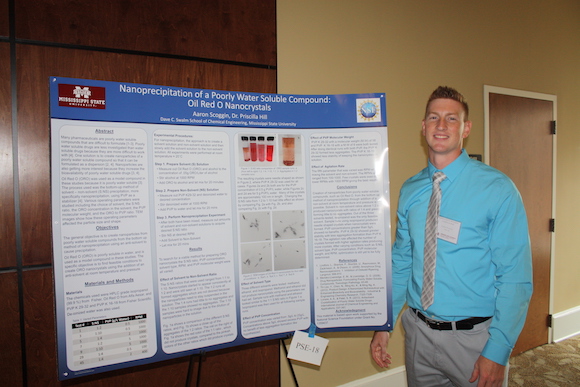 Aaron Scoggin from Lawrence, MS presented his research poster "Nanoprecipitation of a Poorly Water Soluble Compound: Oil Red O Nanoparticles" at MSU's Summer 2016 Undergraduate Research Symposium, and was awarded third place in the Physical Sciences and Engineering category.
His research was supported through the Research Experience for Undergraduates (REU) program at Mississippi State this summer. The REU is a ten week program where a student is assigned a mentor and guided through an area specific research topic. Aaron worked with Dr. Priscilla Hill in the Chemical Engineering department.
Aaron says "It was a great experience for me. It gives students a chance to get involved in research and show applications to back up what is taught in the classroom. It was very eye opening to see the research side of things. Research is an area of interest for me, and I definitely recommend the program to anyone that is looking to get involved in research and make connections and friends."
More information on the undergraduate research symposium can be found at the university newsroom website.