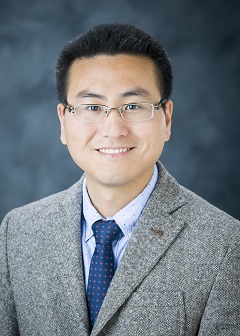 Assistant Professor
Office: Swalm 346
Email: yzxiang@che.msstate.edu
Phone: 662-325-0037
Education
Ph.D., Zhejiang University of Technology 2010
B.S., Zhejiang University of Technology 2005
Professional experience
08/2017 – present: Assistant Professor, Mississippi State University
11/2016 – 07/2017: Scientist/Project Leader, NICE America Research, Inc.
12/2013 – 10/2016: Postdoctoral Research Associate, Washington State University
04/2011 – 11/2013: Postdoctoral Research Associate, Université Libre de Bruxelles
Research Interests
Dr. Xiang's research is focused on the development of heterogeneous catalytic process for sustainable energy and chemical feedstock. Specifically, we are interested in the conversion, either directly or indirectly, of non-petroleum resources, such as natural gas, coal, and biomass to petrochemical products e.g. liquid fuels, aromatics and short olefins. Detailed present research focusing on:
Catalytic conversion of natural gas and natural gas liquids
Selective catalytic CO and/or CO2 hydrogenation
Nanosized catalytic materials: design, synthesis, and characterization
Transient Kinetics Analysis
Selected publication
Xiang Y., Kruse N., Tuning the Catalytic CO Hydrogenation to Straight- and Long-Chain Aldehydes, Terminal Alcohols and Olefins/Paraffins. Nat Commun. 2016, 7, 13058.
Iablokov V., Xiang Y., Meffre A., Fazzini P.F., Chaudret B., Kruse N., Size-Dependent Activity and Selectivity of Fe/MCF-17 in the Catalytic Hydrogenation of Carbon Monoxide Using Fe(0) Nanoparticles as Precursors. ACS Catal. 2016, 6, 2496-2500
Xiang Y., Barbosa R., Li X.N., Kruse N., Ternary Cobalt-Copper-Niobium Catalysts for the Selective CO Hydrogenation to Higher Alcohols. ACS Catal. 2015, 5, 2929-2934
Xiang Y., Barbosa R., Kruse N. Higher Alcohols through CO Hydrogenation over CoCu Catalysts: Influence of Precursor Activation. ACS Catal. 2014, 4(8), 2792-2800.
Xiang , Chitry V., Liddicoat P., Felfer P., Cairney J., Ringer S., Kruse N. Long-Chain Terminal Alcohols through Catalytic CO Hydrogenation. J. Am. Chem. Soc., 2013, 135(19), 7114-7117.