Faculty Bio: Dr. Amin Amirlatifi
April 13, 2017
By: Peyton Johnson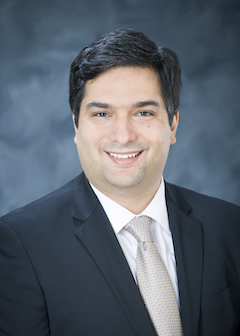 Over the recent years, Mississippi State has continued to grow in population and excellence. As the Swalm School of Chemical Engineering has continued to grow, new faces have emerged in the chemical and petroleum engineering faculty. One of those new faces is Dr. Amin Amirlatifi, who is an assistant professor of petroleum engineering. Dr. Amirlatifi teaches reservoir engineering courses for the Petroleum Engineering program at Mississippi State as well as assists with the website articles for the AIChE newsletter.
            Dr. Amirlatifi joined the Bulldog Family in January of 2016. Originally from Iran, he always liked chemistry and a challenge. One of his friends had a father that happened to be a petroleum engineer, and by observing his work, Dr. Amirlatifi gained an understanding of what a petroleum engineer's career entails. From this, he decided to major in petroleum engineering. Dr. Amirlatifi completed his undergraduate studies at the University of Petroleum Technology in Iran in 2003.
            During his time at the University of Petroleum Technology, Dr. Amirlatifi formed a team of fellow classmates that aided in most of the programming needs for the university's online curriculum. This included an advising committee composed of undergraduate students to design and develop the university's website, digitizing most of the theses in the library, and creating online courses. Dr. Amirlatifi also created a database for the registrar at the university. On top of all of that, Dr. Amirlatifi taught programming and Photoshop classes during this time. After earning his Bachelor of Science, Dr. Amirlatifi was awarded a Master of Engineering at the University of Calgary in Canada as well as a Master of Science at the University of Petroleum Technology in 2005. He then completed his Ph.D. at the Missouri University of Science and Technology in 2013.
            Dr. Amirlatifi was born to a father who was a college professor and a mother who was a school teacher. From this influence, as well as the influence of multiple professors throughout his college experience, Dr. Amirlatifi developed a strong passion for teaching. As stated by Dr. Amirlatifi, "The joy you get from teaching is greater than any other."
            Dr. Amirlatifi praised many of his former professors for the influence they had on his life. One professor, Prof. Mohammed Jamialahmadi from the University of Petroleum Technology, had such a positive influence on Dr. Amirlatifi that he saw him as a second father. Dr. Amirlatifi also mentioned other professors, such as Professor Farouq Ali, Professor Tom Blasingame, Professor Andreas Eckert and Professor Runar Nyguard. He said that these men exemplified how important it is for the teacher to connect with his or her students, and thanks to them, he knows why he himself wants to continue to educate future engineers and follow in their footsteps.