Dow VP speaks on the critical need for strong STEM education
March 9, 2012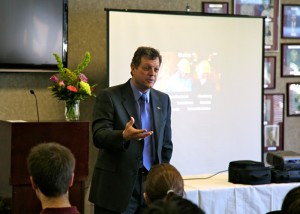 STARKVILLE, Miss.–A senior Dow Chemical Co. official led the March 6 Hunter Henry Lectureship at Mississippi State.
Don Taylor, vice president for Dow's purchasing and supply chain organizations, will discuss the importance of STEM educations and careers. STEM is the popular acronym for the teaching of–and careers in–science, technology, engineering, and mathematics. The talk included several stories about Mr. Taylor's career path. The talk was followed by a reception for undergraduate students and a lunch with the faculty and the college and university administration.
Promoted to his current position last year, Taylor began his career with Dow in 1983 after receiving a chemical engineering degree from Clemson University. An international manufacturer, Dow has headquarters in Midland, Mich.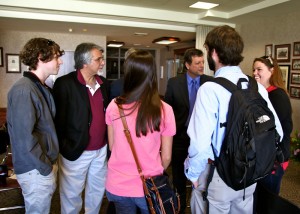 The lecture was made possible by the generous donation of 1950 alumnus Hunter Henry (1928-2011) and his family, who have also supported the student chapter of the American Institute of Chemical Engineers, the Hunter Henry Chair, the Hunter Henry Scholars, and other important initiatives at Mississippi State University. Mr. Henry–like Taylor–began work with Dow shortly after receiving his degree.
Over a long business career and for years after retiring, Henry was a major supporter of his alma mater and, in 1988, was honored as its alumnus of the year. He was lead donor for the $12 million building on the western edge of campus that bears his name and houses offices of the MSU Foundation and Alumni Association. In 2001, he also was honored by MSU with an honorary doctorate in science.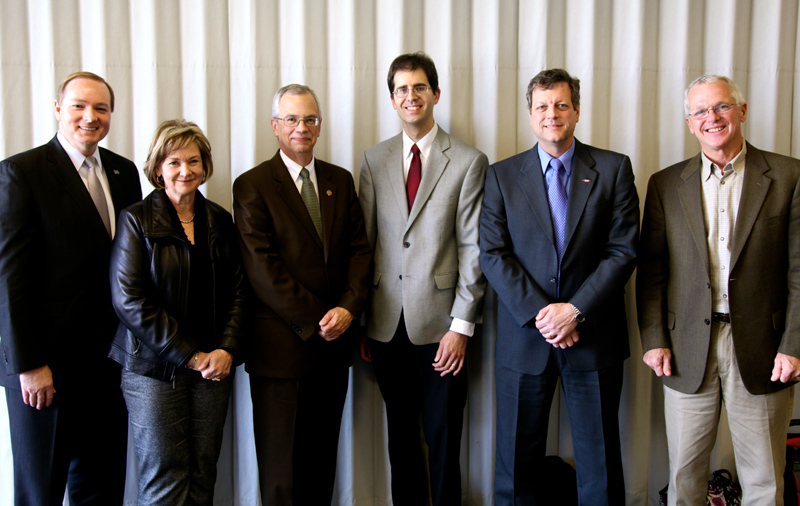 Pictured from left to right: University President Dr. Mark Keenum, Mrs. Kitty Henry, University Provost Dr. Jerry Gilbert, Chemical Engineering Director Dr. Jason Keith, Dow VP and 2012 Hunter Henry Lectureship Speaker Mr. Don Taylor, and Mr. Ticket Henry.