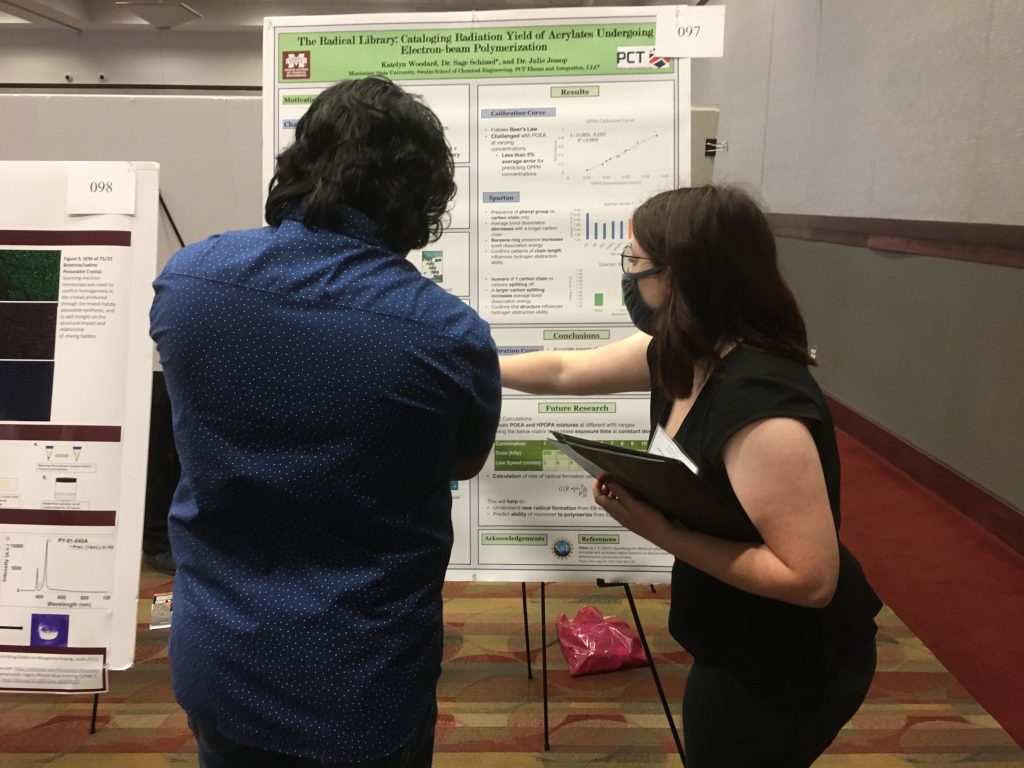 Chemical engineering undergraduate students and their faculty advisors have been busy with research endeavors over the summer.  On August 4th, they showcased their results at the 2021 Summer Undergraduate Research Symposium, which was hosted by MSU's Judy & Bobby Shackouls Honors College.  Over 100 posters were presented by undergraduate research assistants, and CHE students received top recognition in the Physical Sciences & Engineering category:
Rudane Griffiths won 2nd place for his poster entitled "Efficient propane dehydroaromatization over ultralow loading Pt/HZSM-5 promoted with Cu." Dr. Yizhi Xiang is his research advisor.
Katelyn Woodard won 3rd place for her poster entitled "A Radical Library: Cataloging Radiation Yield of Acrylates Undergoing Electron-beam Polymerization." Dr. Julie Jessop is her research advisor.
Poster presentations were also made by the following CHE undergraduates:
Katelyn Crawford (Dr. Santanu Kundu, CHE), "Developing Hybrid Gel of Low Molecular Weight Gelator and Phenoxazine Containing Polyaniline Derivatives"
Alanna Hauer (Dr. Sean Stokes, Chemistry), "Imine-Based Sulfonamide Inhibitors for AdcR"
William Johnson (Dr. Dennis Smith Jr., Chemistry), "Carbon-Carbon Composites from Ortho-diynylarene Resins"
William Rogers (Dr. Maryam Mirabolghasemi, CHE), "Measurement of the Rate of Capillary Rise in Tight Rocks Using Electrical Resistivity"
Dakota Thorn (Dr. Mohammad Heshmati, CHE), "Converting Oil and Gas wells of Mississippi into Enhanced Geothermal Resources"
Alayna Todd (Dr. Charles Freeman, Fashion Design & Merchandising), "Development of a Compost-Ready PPE for Use in Poultry Production"
In addition, several students from other institutions worked with CHE faculty members on research projects through the MSU Research Experience for Undergraduates (REU) Program in Optoelectronic Materials:
Ian Johnson from the University of Southern Mississippi won 1st place for his poster entitled "Electrospinning Optically Active Polymer Fibers Containing Perovskite for use in Fibrous LED Devices." Dr. Santanu Kundu was his research advisor.
Timothy Lewis from the University of Mississippi presented the poster "Electrospinning of Poly(3-hexlthiophene) with Insulating Polymer Matrices for Use in Optoelectronic Applications" based on his work with Dr. Santanu Kundu.
Puneet Singh from Goose Creek Memorial High School presented the poster "Topological Tailoring of Linear Polycyclic Diradical Hydrocarbons" based on his work with Dr. Neeraj Rai.
Congratulations to those who placed and Kudos to all presenters!  If you are interested in learning more about research opportunities for undergraduate students, please contact Dr. Julie Jessop, CHE Undergraduate Coordinator.  She will be happy to provide you more information on the types of opportunities that are available and how to pursue them.
By: Dr. Julie Jessop