ChemE's Set Winning Streak
March 7, 2018
By Heather Bouse
Once a year, all of Mississippi State University's engineering majors come together to compete in E-Week (Engineering Week) to win the title of "Best Engineering Major."  E-Week is an event hosted by the Engineering Student Council that consists of a variety of competitions ranging from playing dodgeball to solving virtual reality puzzles to building marshmallow towers. Any engineering undergraduate student, graduate student, or even faculty member is welcome to participate on behalf of their major.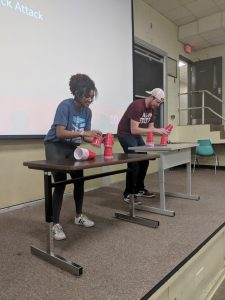 The first-place winner of each competition is awarded 100 points for their major with second place earning 85 points, third place earning 70 points, and so on with participation points also being awarded for a social media challenge.  At the end of the week, a closing banquet is held in which the engineering major who earned the most points is awarded the E-Week trophy.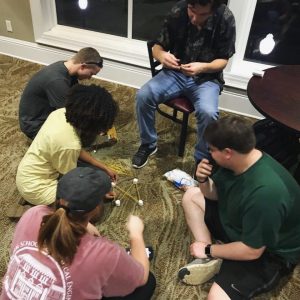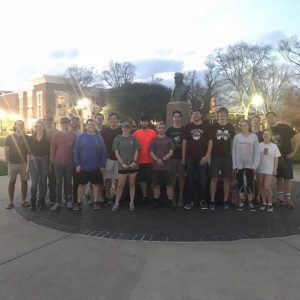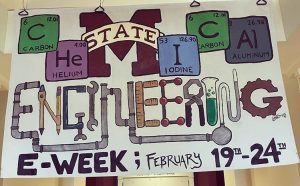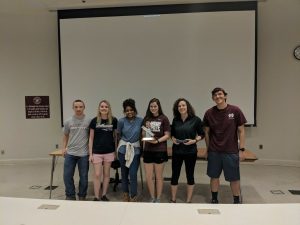 This year's E-Week took place February 19th through the 23rd and saw involvement from several different engineering majors.  Previously, the chemical engineering students won the E-Week trophy in Spring 2017, and they were determined to maintain that honor this year in Spring 2018.  With this goal in mind, chemical engineering had one of the best turnouts out of all the engineering majors being the only major to have a student involved in every event.  Most notably, the chemical engineering students won first place in Clockwork Dodgeball, Marshmallow Tower, Keep Talking and Nobody Explodes (Virtual reality game available in MSU's Mitchell Memorial Library), Fantastic Contraption (Virtual reality game), the 3D printer contest, and the banner competition as well as second place in the egg drop and Engineering Olympics.  The chemical engineering students all had a great time competing with their fellow engineering majors and putting their skills to the test.
With such an outstanding amount of participation and hard work, it came as no surprise that the School of Chemical Engineering came in 1st place winning the 2018 E-Week trophy by several hundred points.  This accomplishment places the chemical engineering students on a two-year win streak and proves once more that they have the skills and determination to reach their goals.  E-Week was a great opportunity for these students to have fun through friendly competition in a variety of different challenges while still rising to the occasion and setting their major on top.  The Dave C. Swalm School of Chemical Engineering is excited to hold this honor for a second year and hopes to continue to hold the trophy in next year's E-Week!