AIChE Gets Spooky
November 21, 2017
By: Chasity Barber
October 26, 2017
On Thursday, October 26, 2017 Mississippi State University hosted a Fall Festival.  This festival gave organizations on campus the opportunity to interact with those in the surrounding community. There were many activities that parents and children could participate in together. Mississippi State's chapter of The American Institute of Chemical Engineers (AIChE), headed by Co-Presidents Priscilla Symmes and John Suedel, took part in the fall activities by hosting a Mummy Booth.  This booth allowed the youth in the community to wrap the AIChE members in toilet paper, mimicking the frightful Mummy. Co-President Priscilla Symmes said, "The fall festival was awesome! When candy and children are involved it is always a fun time." This festival highlights the efforts of the organization to be a voice in the community.   This fall, AIChE received recognition as one of 16 Outstanding Student Chapters among more than 300 globally—the 16th such award out of the last 17 years.
Another club that represented the School of Chemical Engineering at the festival was Girls Engineering Change (GEC), which hosted a Face Painting Booth. Mississippi State's chapter of GEC was founded by chemical engineering students, Elizabeth Stafford and Derek Migues.  Dr. Santanu Kundu serves as the GEC Faculty Advisor. This chapter of Girls Engineering Change was founded in November 2015, hosting its first kick-off meeting in early January 2016. This club is composed of members in multiple branches of engineering. Despite its name, Girls Engineering Change is also open to male volunteers.
Girls engineering change is a club that promotes young girls (grades 6th-8th) to explore the options engineering provides.  Once a semester, the participants build a kit (e.g. solar-powered USB chargers or Simon Says games) which are donated to either disaster relief programs or the Children's Hospital. These kit builds introduce the young girls to electrical and mechanical components, and general problem-solving.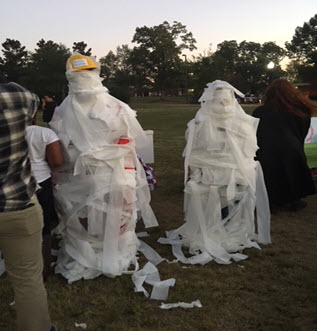 These organizations truly showcase leadership, scholarship and service to the engineering profession and to the community at large—providing unique, diverse opportunities for students. Both organizations are currently recruiting within the School of Chemical Engineering.